These days we have a lot of household projects to handle and we don't know the right tools that can do our projects safely.
Most household projects require saws to execute and we know most saws available out there can be heavy and more expensive.
Most manufacturers are now producing less heavy tools that can be handled easily by anyone, most of the time they can even be operated with a single hand.
Mini circular saws or compact saws have really revolutionized the way we used saws. But one has to be careful when selecting the right compact saw.
Let's look at some of the features you should look out when choosing compact circular saws.
---
How To Choose The Right Circular Saw
Should Have Enough Power
Any circular saw should have enough power to cut though various materials in your household and at the same time cut through any hardwood without any bogging.
Less powerful saws can slow down the motor and will cause the blade to heat up and dull very fast.
Any circular saw without much power will produce poor cut and in some case the blade can climb out to get you injured.
The power we're talking about isn't the electrical consumption power; we're talking about the torque power or the horsepower of the machine.
Circular Saw Should Be Portable
You don't want to deal with any heavy tool, besides that they're also very expensive. A good circular saw should be portable and compact to perform the required task efficiently.
Based on your project requirement, make sure that you take advice on how to choose the right device fit in with your projects.
Safety
Whatever you want to do safety is your top priority. You don't want to select a circular saw that will harm your body.
Before choosing any saw make sure that you fully understand how the tool works and also check for safety features. You should ensure that it has a safety switch which can be held before pressing the trigger.
You should also check for blade guard, you want to make sure that when working with any circular saw you're not exposed to the spinning blades.
Read the manual that comes with the tool and follow all the safety instructions so that you can avoid any unwanted accidents. You should also wear safety glasses or hand gloves if necessary.
Easy To Adjust
You don't want a complex tool that's difficult to deal with. Choose a circular that's easy to adjust. The controls should be tight well so that they can hold firm at any angle.
---
Genesis GCS545C Circular Saw Overview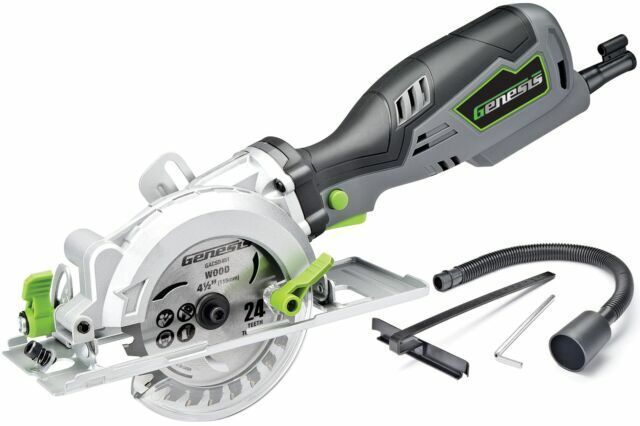 As new technological advancements are always coming in our way a lot of people are getting involved in construction and Deco projects. Most people prefer to be involved in their own projects more especially at home since it can be done with easy and affordable tools.
In order to complete your projects successfully, you have to get the right tools and most importantly within your budget. You don't need all those expensive tools to complete your DIY projects.
Genesis GCS545C Circular Saw is one of such tools you can use to accomplish your projects with minimal efforts.
Genesis GCS545C is one of the best sellers in terms of circular saws. Here are some of the features that make this tool stand out from the crowd.
Genesis GCS545C is among the best circular saws in the market, it has a lot of amazing features that will capture your attention and help you complete your projects successfully. It's a compact saw that comes with a vacuum adapter, it can be used to do any DIY projects effectively. Because of its great features, everyone should definitely add this tool to their toolbox.
If not the best, the Genesis GCS545C circular saw will definitely come second, the compact saw have been tested to cut 2 x 6 woods and the results were amazing, a lot of people were happy with the tool. It scored a lot of points because of its good design, it poses a narrow handle that makes it easier to grip and can fit well in all hand sizes.
It has a good ergonomic design that makes them too easy to be handled with only one hand. This is a premium quality product that can be used by both newbie's and professionals.
It comes with 24 tooth tungsten carbide blade. It's powerful and can cut through most plastic materials, wood, composite decking, vinyl siding, and other materials, leaving you with a clean finished work.
Genesis GCS545C circular saw offers a powerful punch using its triple reduction gearbox and 4.8 amp motor. It can even handle the toughest jobs that are done with other tools. You can though 2 x materials with a single cut and cut through other hard materials like aluminum and copper.
The tool is not heavy; it is 50% less heavily than the traditional bulky saw. With its perfect ergonomic design, it is a good handy tool that should be included in your workshop.
If you're looking for the easiest and quickest circular saw you should definitely go with this tool.
When working with the tool you can see the blades clearly, you can make accurate cuts. You can handle repair jobs without any problem; Genesis GCS545C compact circular saw is capable of making 2 x 4 and 2 x 8 cuts.
---
Genesis GCS545C Circular Saw Features
5.8 amp motor, an RPM of 3500, and 120 V.
Arbor size is 3/8 inches and the blade diameter is 4-1/2.
Can be used conveniently.
With its light carbide blade, you can cut through 2 x material with ease without needing larger blades.
Can cut up to 1 11/16 inches.
Triple gear reduction.
Easy bevel controls.
It has an Aluminum gearbox.
Spindle lock for fast blade change.
Included in the box are; vacuum adapter, carbide tipped blade (24T), rip guide and a blade wrench.
---
Advantage Of Using Genesis GCS545C Model
It's Powerful
With 5.8 amps motor, it runs at around 3500 rpm, the tool has maximum torque because of the triple gear reduction; you can cut through thick materials without using the bulky saws. With this powerful tool, you'll get quality outputs and makes your work more efficient. It can handle Most DIY projects without the need for any bulky or expensive tools. Having a good RPM speed makes it able to complete tasks very fast with less effort. Genesis GCS545C Circular Saw can cut through hard metals such as aluminum and copper. It can cut 2 x materials at once using its sharp and powerful blade.
Very Comfortable
Genesis GCS545C comes with good ergonomic design. It is a lightweight tool weighing only six pounds. You can easily carry the tool around with ease; you're also less prone to fatigue. The gearbox is made from aluminum and that is what contributed to its lightweight, even it's a light tool, it's still durable and strong. It has a soft and firm grip. You can adjust the bevel according to your project requirements; you can also adjust the depth. Genesis GCS545C can be used by both beginners and professionals. It has a vacuum adapter and a unique dust port that allows you to view your cut line clearly without visibility disturbance.
The Downside
The tool comes with blade cover but sometimes when it gets stuck the blades can be exposed while spinning, you have to be careful during work so as not to get in contact with the dangerous spinning blades. Some people have also complained about its plunge capability and handle. Other reviewers also suggest that the hand grip should be redesigned to offer more comfort and safety. The tool can't lock at some depths.
Pros
You can lift the device easily without much effort.
It is very powerful because of its strong motor.
You can complete your projects in a short time
It produces high torque.
Material remains clean after cutting.
The tool can fit into tight space.
Cons
It's noisy
The tool might not last for years.
---
Conclusion
Genesis GCS545C Circular Saw is definitely a friendly tool to work with. About seventy percent of customers rated the tool with 4 or 5 stars. This shows that the tool has fewer flaws, and also offers awesome features.
You'll definitely love the tool, why don't you give it a try and see how it can help you accomplish most of your tasks. After using the tool you'll get a good finishing look for your workpiece.
If you want to add a perfect compact circular saw to your toolbox, Genesis GCS545C model is the perfect fit. Most people recommended the tool because it's easier to handle and it's very compact.
Generally speaking and based on customer reviews this tool has earned a good rating because of how easy it is to operate the device and can do any job with ease. It's light, compact and very easy to operate.
When you look at other amazing features of this tool it's definitely worthy for trying out. No one wants to deal with the heavy tool more especially when it comes to DIY projects.
You also want to make sure the tool you want to buy doesn't cost much so that you can stick to your budget, the Genesis GCS545C compact circular saw is definitely one of the best affordable devices you can add to your toolbox.