A knife is generally one of the most versatile and useful tools in the sense that it can help you in pretty much any situation you may find yourself in. Whether it be chipping wood sticks while camping, fending off a burglar, or peeling an apple when you're hungry, everything would be a bit easier with a tiny knife in your hand.
We're not talking about machetes and long-blade half-swords – we're mainly talking about pocket and EDC knives. The 'EDC' stands for every-day-carry; accessories that can easily fit in bags or packs of any size, or preferably even pockets.
Now, while most people associate knives with weapons, EDC knives should be treated as utility tools. Knives that belong to this category have a huge advantage when put back-to-back against jack knives and fixed-blade knives; they're typically lighter, easier to use, plus they are substantially more versatile.
With that being said, let's proceed with our review of the 30 best EDC knives that the current market has to offer:
EDC Knives: Our Top 5 Picks
Essentially, if you're looking to score the biggest bang for your buck, look no further than our top 5 picks. These EDC knives offer superior durability, sharpness, and reliability while, obviously, being a bit more expensive than our runner-up picks.
Zero Tolerance dominates the EDC knife industry through exceptional craftsmanship and innovative knife designs, but you will also see models from Cold Steel and James Brand in the following sections, both of which are huge names in the EDC department:
Our top pick of the day is the Flipper Knife from Zero Tolerance. It is the ultimate bladed tool in the sense that it offers unparalleled reliability and will help you get out of a pinch without fail – it's equipped with an extraordinarily robust handle made of solid titanium. At the same time, it is also surprisingly light.
The angled handle of 0095BW flipper knife is ergonomic; paired with its remarkably low weight, the handling level of this EDC knife is absolutely astounding.
What makes it unique and overall better than most pocket knives on the market is the fact that it boasts an exceptionally well-crafted harpoon-style blade. It is not only more durable, but also sharper than the vast majority of pocket and EDC knives in the same price range. Other notable features of 0095BW Flipper knife include the KVT deployment system, as well as the reversible clip.
---
Cold Steel is yet another household name in the knife industry, and here we are looking at their Recon 1 – an all-around EDC knife that boasts state-of-the-art technologies and features that make it one of the most versatile tactical knives available for the money.
One of the things that make this knife exquisite is its vacuum & heat-treated stainless-steel construction. Even though it is slightly heavier when compared to Zero Tolerance's Flipper, it's still exceptionally light and robust.
This model was specifically designed to resist corrosion and rust; this finish also substantially reduces glare, which makes it an excellent tactical choice in every imaginable scenario. The Recon 1 is supplied with a thumb disc, which allows for superior handling and rapid-response opening. Furthermore, it comes outfitted with a robust pocket clip and a scalloped G-10 handle.
Overall, the cutting power of Recon 1 mixed with its unequaled sturdiness are just some of the many reasons why it's positioned so high on our list of the best EDC knives.
---
The Hinderer 0566 is another EDC knife from the Zero Tolerance catalog. This particular model was designed in collaboration with Rick Hinderer, after which the knife was named. It's outfitted with a S35VN-steel blade, the Speed Safe assisted-opening mechanism, a G-10 handle, and a stonewashed finish.
Essentially, the Hinderer 0566 is a lightweight, remarkably durable EDC knife with flat & rounded edges, tube spacers, and open construction. It was specifically designed with ease of use in mind, although it doesn't lack in any particular field of performance. In fact, it excels in terms of robustness and versatility, although the main reasons why we loved it so much lie in the man exquisite features it comes supplied with.
---
The two ZT knives we've reviewed so far boasted lightweight frames while the 0801 Blackwash Knife is actually great because of its heaviness. The feel of a knife as weighty as 0801 offers a different set of benefits, including more precise handling, a stronger motion, and enhanced durability.
Even though it may not be the most versatile EDC knife out there, it's definitely one of the best self-defense and survival tools available. This features a titanium frame and a stainless-steel blade, both of which offer incredibly high levels of sturdiness.
Some of the most notable features of 0801 include the built-in pocket clip, the flipper-action deployment system, and the frame lock for extra security.
---
The Chapter is distinctively different from all of the models we've covered so far. It is not packed with a myriad of features; instead, it relies on its simplicity and straightforwardness.
You will be able to choose between straight or serrated blade designs, both of which are made of top-shelf stainless steel. On top of that, the blade of the Chapter knife was heat-treated and is able to resist corrosion and rust.
---
The Best EDC Knives: Runner-ups
---
The Lawman resembles Recon 1 in more ways than one. However, it is not laden with as many features, and it's arguably slightly inferior in terms of durability. It packs a drop-point hollow blade that is 3.5 inches long and a robust G-10 handle, much like the heavily acclaimed Recon model.
Even though it may feel a little different than a standard tactical knife, it offers superior edge retention and exceptional handling. Some of the features that we've already seen in Cold Steel EDC knives are also present in the Lawman's construction, such as the anti-glare and corrosion-resistance finish, as well as the Tri-Ad locking system.
All in all, Cold Steel's Lawman is an excellent every-day-carry knife that packs a massive punch for the buck due to its exceptionally robust construction and straightforward design.
---
Some may argue that tanto-blade knives aren't as well-rounded and versatile as drop-point models, but that is not the case with Code 4.
The blade of this EDC knife is made of carbon steel and is 3.5-inches long; it's essentially meant to perform the same tasks as any other tactical knife, although its handling is relatively different – this is a fixed-blade knife, which means that it's already prepped and ready to be used as soon as it's equipped.
This, however, limits the carrying capabilities to a certain extent, and it is obviously not as compact as most folding knives. On a more positive note, this model weighs only 4.3 ounces and its aluminum handle is absolutely remarkable. Some of the other features onboard Code 4 include the patented Tri-Ad locking system, as well as reversible pocket clip.
---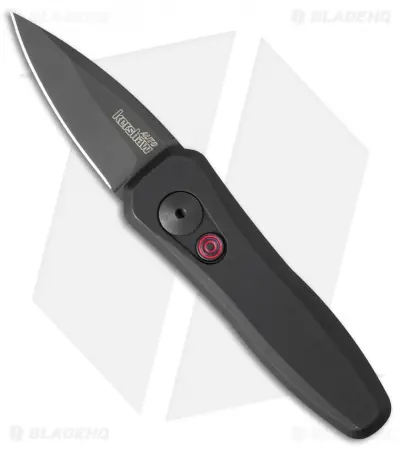 Kershaw is a fairly big brand, and their Launch 4 is an excellent representative of the quality it has to offer. The Launch 4 is, just like Cold Steel's Lawman a bit heavier than you'd expect, but that's precisely what makes it one of the best EDC knives available.
Its grip and feel are astoundingly great, and they're only matched in terms of convenience by the smooth rapid-action opening, affording you the ability to be prepared and ready for whatever may come your way.
The Launch 4 is 7.75-inch long overall, and its drop-point blade is flat, 3.375 inches long and 0.12 inches thick. In a nutshell, this is a fairly simple knife that performs well when needed.
---
If you are looking for a knife that can be concealed as easily as it can be deployed, you should look no further than Buck Knives' Vantage Force Pro. Even though qualities such as blade sturdiness or length are definitely impactful, the time required for the blade to pop out and be usable takes priority, and that's exactly where VFP excels.
This is a tactical knife that sports a glare-free S30V-steel blade complemented with a frame made of top-quality stainless steel. Another benefit to the Vantage Force Pro is the fact that it comes pre-sharpened and is immediately usable.
What makes this model different is that it's slightly heavier and a bit thicker in comparison to most typical EDC knives. Even though it's not as versatile as lighter camping knives, it's a perfect choice for people who are looking for durable and reliable self-defense or survival tool.
---
Most knife enthusiasts will agree that Spyderco's PM2 is one of the greatest tactical knives ever built. There are some valid points in that thinking, but there are also several reasons why it's not among our top choices.
First and foremost, this knife packs a grippy G10 handle and a sturdy stainless-steel blade. It's decently light with approximately 4.8 ounces of weight, and it's slightly smaller than average with 6.5 inches of overall length. The first reason why it is not the best knife of all time is the fact that its handle is made of fiberglass, which is not as durable as, say titanium for example.
On the brighter side, Para Military 2 offers near-instantaneous deployment due to the pre-drilled hole in the blade. In fact, you can unfold it with a single hand, which can make a difference between life and death in sketchy situations. Above all, PM2 is a reliable and dependable knife; its ergonomics are on point, and it's sufficiently sturdy, although the fiberglass handle is a letdown.
---
Benchmade's 583 is a boutique EDC knife. At first glance, the Barrage looks like an ordinary, straightforward knife, but the fact is that it hides a variety of cool high-quality features.
This model comes supplied with a spring-assisted deployment system, an ergonomic G10 handle made of sturdy aluminum, and a M390 steel blade. Speaking of which, the Bohler M390-made blade is 0.12 inches thick and 3.60 inches long while the overall length of Barrage is approximately 8.35 inches.
Remarkable blade retention, exceptional durability, and super-fast deployment are just some of the many benefits you could reap by owning this blade, although it does cost quite a bit in turn.
---
Next up is Al Mar's Mini SERE 2000 – a tactical knife that was specifically crafted for combat. It offers unprecedented rapid-action deployment, blade retention and blade durability, but what makes it so popular among enthusiasts is its nearly indestructible tip.
It features a lanyard hole, just like most army knives, and a convenient little pocket clip. Furthermore, the Mini SERE 2000 packs a sturdy G10 handle that is available in black and camouflage color variations.
Another strong point of this EDC knife is its weight; namely, it weighs only 3.5 ounces, although that's only to be expected as its blade is only 3 inches long. Here lies its only drawback – the size of Mini SERE's blade makes it exceptionally useful in skilled hands, but it may not help as much if you've never used a weapon before in actual combat.
---
One of the things most people look for when searching for EDC knives is compactness. Gerber's GDC pocket knife, luckily, excels in this field; as a matter of fact, it's one of the smallest (if not the smallest) knives on our list.
Its full size when closed is only 3.4 inches while its blade is only 2.5 inches long. Speaking of which, its blade features a drop-point design and is made of premium quality stainless steel. Its usefulness as a personal self-defense tool may be limited, but its convenience in terms of casual everyday tasks is practically infinite.
Gerber's GDC Tech Skin is outfitted with a quality rubberized handle, and a built-in thumb stud. Overall, people who are looking for a tiny all-around pocket EDC knife should not miss out on Tech Skin, as its well-roundedness and versatility are off the charts.
---
Here we have yet another model from Benchmade – the Mini Griptilian 557. This is the second tanto-blade knife in our review, although its design is peculiar in the sense that it bears a lot of semblance to standard drop-point pocket knives.
Its blade is made of quality CPM S30V steel and its length is 2.91 inches, Furthermore, it weighs only 1.75 ounces and offers exceptional edge retention atop of rapid deployment and compactness. Again, tanto knives have limited usability in certain respects, but where traditional knives of this kind fail, the Griptilian actually excels – its blade is serrated, and its blade tip is extra sharp and angled.
All things considered, Benchmade's Mini Griptilian 557 is a sturdy, versatile, and highly dependable knife that is available at a decently approachable price.
---
At first sight, SOG's Spec Arc folding knife looks like a tailor-made tactical weapon that was purposefully crafted for guerilla warfare. While this statement is correct to some extent, it would be unfair to narrow its use to such a narrow spectrum – Spec Arc is, by all means, a multi-purpose EDC knife whose versatility far exceeds that of most tactical knives.
It packs a fast-action deployment system provided by the SOG's proprietary Arc-Lock, which offers exceptional blade retention and immediate readiness. However, its blade is 4 inches long, which makes it slightly more dangerous to use if you're not particularly skilled in handling tactical knives.
Speaking of which, SOG's Spec Arc Folding knife features a VG-10 blade and an ergonomic handle, as well as steel liners.
---
This model was made to cater to military personnel – it is heavy, sturdy, and sharp as shark's teeth. Given the fact that it's a tactical heavy-duty knife, most people may feel slightly dissuaded from choosing it over the myriad of plain, more straightforward models.
However, what makes it so great for everyday use is the safety slide feature, which can be activated in both positions (open or closed). Its blade is made of CPM-S30V steel and is 3.625 inches long.
Gerber's 06 Auto Knife is available in both regular and serrated blade variants, both of which are useful in different scenarios; the plain-blade type is, for instance, better suited for cubicle workers and casual day-to-day events while the serrated blade type offers more tactical versatility to police force members and survivalists.
---
Even if you're knee-deep into EDC and tactical knives you may have missed Hardcore Hardware. They're not as huge as Cold Steel or Zero Tolerance in the US, but they're incredibly popular in Europe, Asia, and their home continent Australia.
MILF-01 is a high-quality EDC knife with a drop-point blade made of CPM-S30V stainless steel and a beautiful G10 handle, and an ambidextrous pocket clip.
Additionally, MILF-01 rocks a frame lock, a stonewash finish, a 420 stainless steel liner, and a fully adjustable stainless steel thumb stud. It's among the heavier knives on our list as it weighs approximately 7.06 ounces.
---
CRKT's P.E.C.K. is one of the lightest and smallest EDC knives available for the buck. It is only 2.65 inches long when closed, and its blade is 2.10 inches long and it weighs around one ounce. Furthermore, P.E.C.K. features a modified drop-point blade made of German Wharncliffe material, offering nearly unparalleled durability and dependability.
Obviously, this knife is not an ideal choice for survivalists, mountaineers or campers, which is the main reason why it's not among our top 5 picks. However, it's remarkably versatile and useful in the EDC niche.
---
The Decree is one of Gerber's finest mid-range EDC knives. It sports a modified tanto style blade, a rubberized handle for a stabler grip, and a ceramic coating on the stainless-steel blade for additional sturdiness.
Furthermore, it is supplied with a built-in glass breaker and a flipper rapid deployment mechanism. Its blade is highly resistant to corrosion & rust while it also boasts anti-glare and non-reflective properties. Generally speaking, the Decree is a highly versatile knife, although it is not as laden with features as some of the models in Gerber's catalog.
---
Enthusiasts and Tops' fans are well aware of the fact that their entire Anti-Terrorism series is absolutely phenomenal. The #203 knife is a solid candidate to represent it in its full light, as it is sturdy, comfortable, and remarkably easy to use, making it an all-around tool for everything from mundane daily tasks to tactical and guerilla combat.
What makes #203 stand out from the rest of the models in the C.A.T. series is the freshly updated G10 handle. Apart from the fact that it's a bit more aesthetically pleasing due to the new handle pattern, it's also slightly more durable and grippier in its current form.
Moreover, C.A.T #203 is also supplied with a black-coated blade made of RC 56-58 stainless steel. Speaking of which, the blade's length is 3.25 inches, and its thickness is 0.160 inches.
---
Buck Knives is another household name in this particular line of industry; aside from the fact that this brand is famous for top-shelf boutique knives, their selection of mid-range EDC models is also fairly formidable and arguably best represented by the Nano Bantam knife.
This knife is supplied with a heat-treated 420HC steel 3-inch blade, and an ergonomic handle that offers excellent grip and comfort. Even though this is a simple knife, its versatility and ease of use make it a perfect choice for daily-life tasks and events.
---
Much like the SOG-s Spec Arc knife, the Pent Arc is a tactical folding knife that bears a lot of semblance to its military-issue heavy-duty counterpart. It offers a rugged, yet ergonomic handle and a pre-sharpened VG-10 high-quality blade.
You'll probably recognize the Arc-Lock deployment mechanism, which is integrated into most SOG knives. Additionally, this model features a sturdy GRN handle and several adjustment hardware pieces that allow you to fine-tune its action.
---
5.11 is a bit more popular among handgun enthusiasts; however, this brand also offers a fine selection of EDC knives. We've cherry-picked their Tactical DTP knife mainly due to its exquisite design.
This knife boasts an ergonomic handle and a modified spear-point 2.85-inch blade made of Aus8 steel. It's also packed with reversible thumb studs and pocket clip, as well as a thoroughly reinforced lock-back system.
---
Gerber's Propel Downrange AO knife is an American-made EDC knife that features a remarkable tanto blade coated with black oxide, which offers remarkable corrosion and rust resistance. Furthermore, it boasts a comfortable and grippy G-10 handle with a desert tan texture, as well as a lanyard hole built into its pommel.
One of the most remarkable features of the Propel Downrange knife is the Gerber's proprietary Assisted Opening mechanism, which promises a lot in terms of rapid one-handed deployment. The only thing that somewhat limits its EDC usability is the fact that its blade is slightly taller than average.
---
Spyderco's PM and Dragonfly 2 have a lot in common – both of these knives are ultra-lightweight, durable, and packed with state-of-the-art technologies and features. Now, there are numerous improvements aboard the Dragonfly 2, such as the FRN handle, Bi-directional texturing, and a bit of extra durability in the department of its VG-10 blade.
This model is also available in a myriad of different blade styles and handle colors, including the Wharncliffe edge, Spyder Edge, and Plain Edge. Some of the most notable color variations available are yellow, black, blue, red, and such.
The main reason why it's not listed in our top 5 picks is that it feels a bit awkward due to its weight; you may need a bit of time to get accustomed to how it feels in your hands.
---
Kershaw and Rick Hinderer have collaborated on both Hinderer and Cryo II, so it's a given that these two EDC knives will share a fair portion of features, benefits, and drawbacks between each other.
This model is decently tall, although it's not a full-sized EDC knife. It packs a 3.25-inch blade made of high-quality stainless steel; furthermore, the blade sports a titanium nitride coating that offers just a speck of extra durability.
A plethora of features that Hinderer is supplied with have been provided to the Cryo II as well, including the Speed Safe assisted deployment mechanism, the integrated flipper, and the thumb stud.
---
If you are on the market looking for a plain, straightforward, and reliable EDC knife, CRKT's No Time Off may be what you're after. It boasts exceptional versatility and is held in high regard among campers, survivalists, and outdoorsmen due to its impeccable blade retention and durability.
Some of the most notable features that this model is supplied with include the IKBS ball-bearing pivot mechanism, the heavy duty-traction grip, and a textured robust handle.
---
Schrade's SCHA58 is one of the handful of knives that looks as great as it performs. It is equipped with an aluminum handle, which features a unique angled design, a 3.3-inch long high-carbon steel blade, a convenient little pocket clip, and an integrated lanyard hole.
It excels in numerous fields of performance, such as blade retention, rapid deployment, sturdiness, and most importantly – versatility. Unfortunately, the design of its handle makes it a bit unwieldy for tactical purposes.
---
The Pocket Bushman is a long-bladed EDC knife that will give you the upper hand in difficult situations; whether it be repelling a would-be robber or an aggressive animal, CS's Bushman will save your life if you opt for using it.
It packs a 4-inch blade and a plain handle that is nearly 6-inch tall, which makes it one of the largest EDC knives in our review. Even though it may be a bit harder to use for menial tasks (such as, for instance opening business letters), its usefulness in the realms of survivalism is unprecedented.
Luckily, the drawbacks in terms of its length and weight are somewhat countered by its simplistic design. The Pocket Bushman is outfitted with the Ram Safe-locking mechanism and a reversible steel belt clip, although it does not come supplied with versatile features such as lanyard hole or glass breaker.
---
The Epicenter Framelock is a minimalistic EDC knife that could come in handy in pretty much any scenario. It's sharp enough to cut anything from fruits to wood sticks; it's small enough to be carried in a concealed position; it's strong enough to endure decades of use and abuse.
This model features titanium plates, a robust frame lock, and a reversible pocket clip made of exceptionally sturdy materials. Furthermore, it packs a VG-10 steel blade and a lanyard hole. Its only drawback is the unwieldy liner lock.
---
Our final pick of the day is the exquisite Boker Plus Subcom pocket knife. It looks and feels a bit weird, but it offers excellent action and a durable, lightweight frame.
Subcom weighs barely 2.5 ounces, and it packs a 1.88-inch blade made of quality VG 10 steel. Furthermore, it is supplied with a frame lock made of titanium, a thumb stud, and a serrated blade, which offers a slight boost to its overall versatility. It looks cool, and even though it feels a bit unwieldy at first, it's still a magnificent knife in its own right.