Using a wood-burning stove is a more eco-friendly way to heat your home. The size can range from small and affordable to large and luxurious. A small wood-burning stove feels cozy and charming. Maybe it's the crackling of the fire or the warmth it gives off, but these stoves are getting popular.
Choosing the right small wood stove is important to you? If you enter the market for small wood-burning stoves, you'll be confused because there are many different stoves out there, and it can be hard to decide which one you need. Not to worry, you're at the right place!
Our selection of compact wood stoves makes it easy to find the right wood stove for any home, whether it be a mini wood stove or a cabin wood stove.
We'll talk about some advantages of having a small wood-burning stove and provide tips for choosing the right one for your home.
Keep reading to learn more about small wood-burning stoves!
The Top 6 Small Wood Burning Stoves You Can Rely On
There are a lot of factors to consider when choosing a small wood-burning stove. Not only do you have to think about the size and type of stove that will fit your needs, but you also need to find one that's going to be high quality and easy to use.
We'll take a look at six of the best small wood-burning stoves on the market right now. We'll outline the features, pros, and cons with our final remarks of each model so that you can make a better decision before making a purchase. So if you're thinking about adding a stove to your home, read on for some great ideas!
---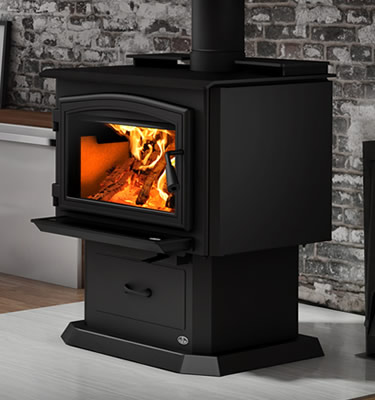 If you're in the market for a small wood stove, the Osburn 2000 is worth checking out. This little powerhouse can heat up to 2100 square feet, making it one of the perfect small wood stoves for cabins. It's also EPA-certified, so you know it meets all the latest emissions standards.
Plus, it comes with a nice variety of features, like an ashtray and a blower kit. So if you're looking for an affordable and efficient way to heat your home this winter, the Osburn 2000 is worth considering.
Key Features
Osburn small wood stove 2000 is one of the ways to heat your home, whether you live in town or the country. This appliance makes it easy for people currently using an open fireplace or a fire pit that provides heat for warmth.
It burns hot and fast with advanced airflow technology that makes it more effective than other small stoves on the market. It is an ENERGY STAR-certified mini wood stove. These units are more efficient than regular stoves, and they'll save money while reducing greenhouse gas emissions.
Besides being one of the most sustainable stoves, it burns to produce high heat output to make up for its smaller size. The stove can reach operating temperatures in about 20 minutes.
What's the catch?
The design features are based on ergonomics, making this model very user-friendly and straightforward to operate. The stove has a single-wall construction. The 2000 model is the smaller version of their wood stoves but can still heat larger areas.
An important feature is that the combustion chamber is lined with ceramic fiber for easy cleaning and long life. The compact body of the 2000 model can make it fit into tight spots with ease.
What's more?
This small wood-burning stove comes with the ability to cut through difficult weather conditions, such as wind and rain while burning very efficiently at the same time. It's also straightforward to use for anyone who isn't experienced with using wood stoves. Plus, the stove is quiet to keep the silence of your home.
One thing that made the model less attractive is its weight which can be difficult for some users, especially those who aren't very strong. It can be difficult to move easily when not installed in a home, especially when full of firewood.
Pros
Gives a long burning time.
Safe to use, being EPA Certified.
The glass panels of the door allow users to enjoy the fire from a distance.
One-time purchase stove with a lifetime guarantee.
High output for better heating around the house.
Cons
Some users may find it more expensive than other similar options.
Final Verdict
So, there you have it. The Osburn 2000 is an excellent small wood stove for a tiny house. It's smart and easy to use, and the low clearances make it a good choice.
The stove is best suited for people who live in colder climates and have a place to install the woodstove. In addition, it's also best used in small spaces where an aesthetically pleasing design is key.
It may not be the cheapest on the market, but it certainly has a compact design, making it suitable for places where heat output is needed most. If you're in the market for a small wood burner, be sure to check out the Osburn 2000.
---
It's getting cold outside, so it's time to start thinking about heating your home. For this purpose, if you're looking to install a small wood-burning stove at your home, the Timberwolf EPA 2100 might be just what you need. This stove is easy to operate and has a realistic burning flame effect. Plus, it's affordably priced compared to other similar stoves on the market.
Key Features
This little wood stove is perfect for people who want a traditional wood stove with the cleanliness and convenience of a contemporary model. It has a small footprint, making it ideal for tiny homes, cabins, RVs, and tiny houses on wheels, and it outputs 52,000 BTUs of heat.
Featuring the dual option of legs or pedestal, these small wood stoves for cabins give you an independently certified particle emission rate at 1.57 grams per hour, making this product one of the compatible heating stove, burning in a neat and tidy way with a little mess for you both in terms of ashes and pollution around the house.
Looking for something to fit in a small place with limited wall clearance?
Timberwolf EPA 2100 is exactly designed for you people living in small homes and finding a way to prevent yourself from freezing during the winters.
The most amazing thing about this stove?
Although it is much smaller in size with a specialty of being suitable for smaller places, Timberwolf EPA 2100 is even used for places having a size of up to 1500 sq ft. This means you can use it for both smaller areas together with some of the bigger homes and cabins.
Pros
Have an independent certification for emission issues.
Gives a five-year warranty.
Affordable according to its features and quality.
Efficiently provides high burning time.
Final Verdict
This TimberWold EPA 2100 stove has many benefits for those people who live in tight spaces. It's EPA certified and still, it's a compact wood stove that can burn up to 6 hours which is great when you are trying to save on the cost of heating your home. It is perfect for your lifestyle if you have limited wall clearance so that you have no problem fitting it into any space you want.
You will want to take a look at this one before making your decision!
---
Do you like the idea of a wood-burning stove, but don't have the space for a traditional one?
The Dickinson Newport small wood-burning stove is perfect for smaller spaces. This stove is compact and durable, with a conventional ignition system. It also has an adjustable heat output, so you can customize your experience. Plus, the Newport small wood-burning stove comes with a free log grate!
If you're looking for a quality wood-burning stove that doesn't take up too much space, the Newport is the perfect option.
Key Features
Dickinson Newport small wood-burning stoves are elegant little cast iron stoves that provide even heating in small rooms. They stand only about 32 inches tall, making them ideal for use in sheds, hunting cabins, and cottages, or any other small space you want to warm up.
These little cast iron stoves are designed with a slender frame that doesn't take up lots of room or weigh a lot, so you can fit one in any space. The clean white enamel finish resists chipping and scratching, adding to the durability of this wood stove.
Think it's not enough?
The Newport has an adjustable front-mounted door that lets you choose between opening the damper halfway for moderate heat or all the way for maximum heat output.
A built-in ash drawer beneath the firebox makes it easy to clean up after you're done, and a standard 3-inch flue pipe makes this stove compatible with most chimneys. Newport is just the right size for heating any little space that needs some extra warmth or just some atmosphere, without being too big.
Pros
Much different design from the traditional and modern small wood-burning stoves.
Perfect for using other fuels apart from wood,
Steel body adds to the durability.
You can fit it into the wall.
Cons
Do not give acceptable burning time.
Small fuel chamber, making you put fuels multiple times a day.
Final Verdict
When most people think about wood-burning stoves, they picture the old-fashioned kind with a big, round belly and a steel chimney shooting up through the roof. But today's wood-burning stoves come in all shapes and sizes, including this small Dickinson Newport model that can fit just about anywhere in your home.
If you're someone who loves the idea of having a cozy fire to curl up around in the winter but doesn't want to take up too much space or deal with all the hassle of maintaining a fireplace, then a small wood-burning stove like this one could be perfect for you.
Though it is not as amazing as many other small wood stoves for cabins, as it lacks many features including reduced power output, still it would be perfect for those looking for a temporary solution to meet the winters this year.
---
Before you buy a new gas-log fireplace, consider a small wood-burning stove for sale like the Hi-Flame Shetland. These efficient little stoves can heat up your living space in no time, and they're a great way to reduce your carbon footprint.
Plus, small wood-burning stoves are much more affordable than gas fireplaces. Consider heating your home with wood this winter, be sure to check out the Hi-Flame Shetland. You won't be disappointed!
Key Features
Hi-Flame Shetland wood burning stove is a very compact stove that features an overall height of just 24 inch, width 17 inch,es and depth 18 inch making it great for every house in the modern world!
You can use it even in smaller rooms or in the garden where you need a heat source.
What makes this so special?
It is equipped with the same heat output as all Hi-Flame stoves: 5 kW and a burning capacity of 5kg/h thus making it great even for smaller rooms in your home. The combustion system ensures efficient burning and long-lasting fire. The duration of this fire depends on the quality of kindling you are using. The stove is designed to provide a long-lasting fire that will last for over 12 hours!
The point?
Hi-Flame Shetland features efficient combustion with air inlets that provide clean and hot burn without any problems or dangerous emissions. You probably know that most wood-burning stoves need professional assembling before using them, but this is not the case with this model. Hi-Flame Shetland wood stove comes almost fully assembled with only a few things left to be done by yourself!
Pros
Gives out a high-efficiency rating.
Affordable in price and usage by saving fuel.
Suitable for large areas.
A decreased clearance distance for less cleaning.
Cons
Does not offer a lifetime guarantee.
Final Verdict
If you're in the market for a small wood-burning stove, the Hi-Flame Shetland is definitely worth considering. This stove is made from cast iron and has a nice design that will look great in any home. It's also surprisingly affordable, making it a great option for budget-conscious buyers.
You might experience a frequent fuel refilling issue, but the Shetland comes with all of the features you would expect from a top-quality stove, including an adjustable heat output and an automatic ignition system. So if you're looking for a reliable and affordable way to heat your home this winter don't forget to consider this option.
---
Looking for a small wood-burning stove with perfection for your cabin? Look no further than the Vogelzang Defender. This stove is compact enough to fit in any space, but still delivers plenty of heat to keep you warm all winter long.
It's perfect for cabins and can heat up your space in no time!
Additionally, it's really handy so you won't have any trouble getting started. The Defender comes with a variety of features that make it perfect for use in a cabin.
Keep reading for more information.
Key Features
The Vogelzang Defender is a British-made wood-burning stove, which has been designed to burn only logs and nothing else. This means that it will not expel carcinogenic fumes into your home like some other wood burners do and it will create an attractive focal point for your living room.
The cast iron construction of this model ensures that it is strong and durable but still remains lightweight. This feature makes it one of the most portable stoves on the market today.
The best thing?
It's the perfect size to take the chill out of an average-sized room and can be installed in any standard fireplace opening.
You can enjoy pewter and nickel trim and a charcoal black finish with a ceramic glass viewing window to have better access to heat.
Pros
Comes with a blower for better functioning.
Legs can be adjusted according to requirements.
High output for maximum heating around the room.
Suitable for small areas up to 1200 sq ft.
Cons
Does not follow 2022 EPA rules.
Final Verdict
This compact little beast will heat up your cabin or office quickly and systematically without costing too much money.
However, it does not fit according to the latest EPA rules, though, it's easy to use with features that make this perfect for cabins, such as being able to be used both inside and outside – so if there's a power outage during winter storms at your cabin home….you'll still have warmth!
---
If you're looking for a small wood-burning stove that can heat up to 1,200 square feet, the Vogelzang 1200 Sq Ft Wood Stove is a great option. This stove is made with high-quality materials so it should last for many years and features an airtight door to help keep your heat inside.
Also, it's easy to operate and has a clean-burning design, making it a great choice for anyone looking for a reasonable way to heat their home.
So if you're searching the market for a quality small wood-burning stove, be sure to consider the Vogelzang 1200 Sq Ft Wood Stove.
Key Features
Vogelzang designed this small wood stove with a proficiency of being suitable for compact places and larger places. You can enjoy a 10 hours larger burn time that allows you to enjoy comfortable time with no frequent refilling.
Sounds impressive, right?
The larger logs as fuels add up to the feature of long burning time. The plus point includes a large glass window, absent in most wood burning stoves, helping you to keep an eye on the amount of fuel left and also enjoy direct heat.
Why would it be beneficial?
Less fuel is used by a secondary air inlet that helps to burn the wood evenly making it burn for longer periods, saving fuel.
Though it lacks an ash pan, still in case you are looking for an affordable option to have a warm house this winter, then Vogelzang 1200 Sq Ft Wood Stove is the perfect option for you.
Pros
EPA certified making it suitable for the environment.
Lega can easily be adjusted.
Gives high efficiency output.
Iron and steel body ensures durability.
Cons
Do not offer any ash grate.
Final Verdict
The Vogelzang 1200 Sq Ft Wood Stove is a great choice for anyone looking for an economical way to heat their home.   This stove is well-reviewed, with most people agreeing that the stove is high quality and performs impressively. It is larger than most of the small stoves, but reviewers really liked the efficiency of this stove, and many said they would recommend it to others.
---
Small Wood Burning Stoves Buyers Guide
Small wood-burning stoves are a great way to heat your home without spending a lot of money. This guide will help you find the best small wood-burning stove for your needs.
Listed below are some tips on how to safely use your small wood-burning stove, its pros, and cons, and how to maintain it.
➔  Things To Consider Before Buying
When you're looking for a small wood-burning stove for cabins or a tiny house, there are many things to consider. You need to think about the size of the stove, the type of wood you'll be using, and how much heat you need. After knowing the answers to these questions, you will be able to make an informed decision about which stove is right for you.
1.  Which Emission Standards Should Be Followed?
The EPA has set new standards for small wood-burning stoves as of 2020. The old standard was 4.5 grams per hour (g/h), and the new standard is 2.5 g/h, so there's a significant decrease in particles being emitted by wood stoves. This will affect anyone who lives in a home that falls under local building codes.
Temporary dwellings will be less affected by the new rulings because they are not required to meet the new standards until the 2023 ruling. Owners of small wood-burning stoves will also have to get a certification from a product manufacturer for their stoves to comply with emission standards. This certification is only needed if your stove is made after 2020. Stoves at least 10 years old can be used, but they do not have to meet the new standards.
A small wood-burning stove is any stove that has a heat output capacity of less than or equal to 70,000 BTU/hour. This means most common types of stoves will fall under the new emission standards. Temporary structures like cabins typically have a 15,000 BTU/hour or less heat output capacity.
If you have a small cabin, tiny house, or any other small structure on wheels, check with your municipality to know more about local building codes and emission standards before looking for a wood-burning stove for sale.
2.  How Much Heat Is Required?
In addition to square footage, several other factors will determine the heat output you need. If your home has little insulation and drafty windows and doors, you'll need more heat output to keep the space at a specific temperature than if your home is airtight and well insulated.=
The height of your ceilings is also a big factor. Tall cathedral ceilings are gorgeous, but they do mean that your heated air will spend its time rising towards them and not hanging out on a ground level with you.
Other factors that impact the amount of heat you need include how many people are regularly in one space, how much exterior wall surface is exposed to the colder outdoors, and whether or not you will need heat overnight.
For example, if you live in an uninsulated cabin with cathedral ceilings and no insulation on the walls or attic, using a small wood stove to heat your home might only keep it at 60 degrees Fahrenheit. If you're planning to use that same small wood stove when nighttime temperatures are much lower during the winter season, you will need to develop a different heating solution.
On the other hand, if you live in an insulated home that has great wall insulation and you only want to keep the space cozy enough for one or two people at night during colder months, using a small wood stove can be adequate even when nighttime temperatures drop below zero.
One of the easiest ways to figure out how much heat output you need is to use a BTU calculator. You can do this by inputting your square footage and other variables into an online calculator or by using an app on your phone.
A good rule of thumb for determining whether your small wood stove will be adequate is that for every 500 square feet, you need 25,000 to 30,000 BTUs. This means that if you live in an approximately 800 square foot home with cathedral ceilings and no fireplace or wood stove of its own, you will likely need a small wood stove than puts out at least 20,000 BTU/hr (25,000-30,000 BTU/hr x .8 square footage = 20,000-24,000 BTU/hr).
There are also other things to consider. For example, will you use your small wood stove during the day while you're at work or school? Or only at night while everyone is sleeping? How often will it be on?
3. How Much Is Space?
Knowing exactly how much space you have is also crucial because each stove will have clearance requirements in addition to the actual stove.
If you're currently using a wood stove, don't guess how much space you have for your next one. Do the math and do it right. The square footage of your home will roughly tell you whether a given stove can deliver the right heat output. A stove that's underpowered won't be effective, but buying a bigger stove than you need isn't better.
Stoves bigger than you need are less efficient and likely to cost more than you need to spend. They also won't run as hot, and stoves that don't run as hot can build up more creosote in the chimney, increasing fire danger.
4.  What Fuel Can You Use?
If you're blessed with a ton of cordwood every year, just about any wood stove will do. You should take note of the length of firewood that each stove can accommodate, though, so you can plan out how you'll process your wood.
Small wood stoves for tiny houses are typically designed to burn cordwood, but some models can also burn compressed wood or wood pellets. If your wood supply is hit and miss, you might want to consider a model that will let you burn alternative forms of fuel.
There are three basic types of stoves:
These models have been around for years and usually require manual fire feeding.
Common to all models, you'll need to load in fresh wood when the fire has gone out, clean it occasionally, and let it cool between fires. If your family enjoys periods of downtime together, this might be a good choice.
This type of stove provides the most heat with the least amount of wood, so if you're not looking for an all-day fire, it might be your best bet.
Airtight stoves are also easier to load, so that you can use wood chunks or even paper for kindling. They don't require the frequent fueling of other models, and they have a high limit on how much heat they produce. The downside is that they have no draft control, so it's hard to shut down the stove without wasting fuel.
Also known as "boiler" stoves, these units burn logs of wood or smaller pieces of wood to produce heat. You can adjust the size of the fire with adjustable fronts and dampers on the top of the stove, though it takes some trial and error before you get the hang of it.
---
➔  Pros and Cons of Small Wood Burning Stove
Small wood stoves for the tiny houses have multiple benefits for the users, but not without bad aspects.
Pros
They are the perfect way to create an elegant, classy and warm atmosphere.
The design has multiple benefits, including being able to keep your home at normal temperatures during power outages or natural disasters while using little energy themselves.
It can even provide extra heat when you need it most: like in the middle of winter months without any sun available.
The best thing about the fuel used in these stoves is that it's always available, renewable, and sustainable, with minor changes in fuel prices.
Wood stoves are a great way to stay warm during winter, but some can be heavy polluters. The latest small wood-burning stoves have been certified by the EPA and will burn efficiently without releasing any harmful chemicals into your home's air quality!
It's cleaner than an oil or coal-based system because it doesn't produce any harmful smoke that can irritate our lungs; plus, they're much more efficient when it comes down to heating the room!
Cons
The combustion gas pipe is a necessity for burning wood in your fireplace.
You'll need an adequate amount of seasoned wood for your fireplace, and you might find that it's necessary to chop up pieces yourself with an ax or hatchet before adding them into flames – this can be tough work if not done properly!
The different shapes and sizes of wood can cause differences in how it burns, which means you might not always get consistent heat.
A carbon monoxide alarm is required to keep you and your family safe.
The smoke from a wood-burning stove can be hazardous to your health. The modern small heaters now on the market have certain air quality standards, so you don't need an old-school fireplace for this type of heating!
They require wood as fuel. The storage space needed for all that extra material can be limiting if you don't have enough room in already crowded hallways or outdoors near other structures like sheds where their heat will radiate outwards, giving them away easily.
➔  How To Maintain/Clean A Small Wood-Burning Stove?
Since wood has become one of the energy sources used today, small wood-burning stoves are for sale designed to be installed in small spaces. The wood-burning stove may come in different sizes, shapes, and designs so that you can choose the best wood-burning stove for your needs.
Below are some wood-burning stove maintenance tips for small wood-burning stoves.
Always Wear Protective Gear When Cleaning Out Ash.
The wood-burning stove will produce ashes every time you use it. For safety purposes, make sure to wear protective gear like gloves and goggles. This is because the wood-burning stove produces small wood chips that can fly into your eyes or cause damage to your skin when you clean out the wood-burning.
Start Cleaning By Unloading Wood
Before you clean out the wood-burning stove, make sure that it is turned off and unload all the wood. This means that there should not be any wood in the wood-burning stove at all.
Remove the Wood Ash
Another wood-burning stove maintenance tip is to remove wood ash from your wood-burning stove. Since ashes are small, fine particles, they may be scattered if you simply open the wood-burning door and start digging into it with a shovel or scoop. Ensure to wear protective gear to avoid wood chips, wood ash, or small wood particles getting into your eyes and skin.
Clean the Glass Wood-Burning Door.
Wood-burning stove maintenance tips also include cleaning the glass wood-burning door. Wood burning stoves are designed to be burned safely without causing dangerous emissions in the air. The wood-burning stove safety glass is an additional layer that protects you and your home from wood smoke and wood emissions when wood burning. Make sure to clean the wood-burning stove safety glass to avoid buildup, which can cause it to get cloudy or dirty over time.
Add Wood After Cleaning Out
Once you have cleaned out the wood-burning stove and removed wood ash, it is time to add wood again. However, make sure that all ashes are cool before adding wood into your wood-burning stove. Also, always follow the manufacturer's instructions when using your wood-burning stove and read the manual carefully for additional wood-burning stove maintenance tips.
These wood-burning stove maintenance tips are important to follow as wood-burning stoves for small spaces need proper care and attention. To avoid dangerous emissions from wood smoke, it is advisable to have the wood-burning stove serviced by a professional before using it during winter or if you have not used your wood-burning stove for a long time.
Conclusion
Since the dawn of time, people have used fire for warmth and cooking. However, due to its initial environmental impacts, such as air pollution, it was quickly replaced by other forms of heating methods like gas furnaces which were much more efficient but also came at a cost – one that many homeowners couldn't afford if they wanted an alternative solution because these days you need money just to put food on your table!
Modern small wood-burning stoves provide a nostalgic and romantic way of heating your small space, being incredibly cheap to operate, and can be installed in various ways. Apart from the benefits, you may have to deal with the smoke from burning wood, which is sometimes problematic for most people. Still, if you're looking for an efficient, affordable way to heat your cabin or tiny house, a mini wood stove is a perfect option with a chimney on top to deal with the smoke.
Have you considered using one in your home?
If you invest in a wood-burning stove, make sure it is the best small one for your needs. There are many different stoves out there, and they can be tough to choose from.
Hopefully, we've helped narrow the search by providing great options that will work well for most people. We're here if you need more information on these products or anything else.