With dozens of products in the market, it's not easy to make the right decision when it comes to choosing compound miter saws.
If you're looking for superior performance, the Makita LS1216L Compound Miter Saw is the best tool that delivers what it promised. Makita is well known for building exceptional quality power tools.
If you want a compound miter saw with excellent cutting performance, the Makita LS1216L model should be your first choice. The powerful features it comes with can outperform most compound miter saws that available in the market.
Makita always want to create the best power tools and hence no one can deny the accuracy of this compound miter saw, you'll definitely be amazed at the level of accuracy you get by using this machine.
The Makita LS1216L Compound Miter Saw has all the features a typical miter saw could ever have.
The cutting edge performance of the tool can deal with any woodwork projects you might have. With its large cutting capacity, you can cut through thick materials, dealing with difficult tasks isn't going to take a long time with this new tool by your side.
You can make different cuttings such as baseboards cutting and crown molding; this can be done effortlessly within a short time. You can use this tool to cut 4×4"- dimensional lumber within only some seconds. This a perfect tool for use in the woodworking, carpentry, and general construction.
It comes with a 15 amp motor; this is powerful enough to start working on your projects. The tool is strong enough to drive the machine without changing or replacing belts. It also has good electric brakes that are responsive enough to stop immediately after pulling the stop trigger.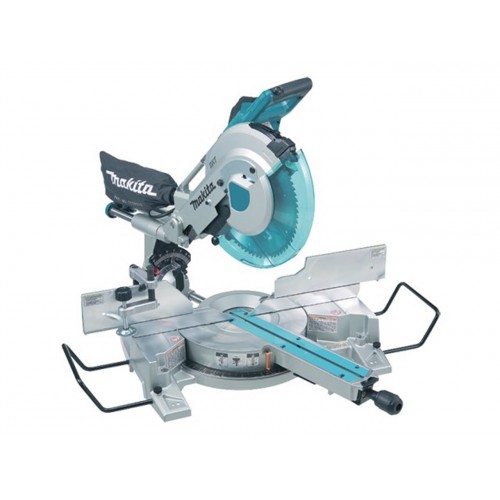 The Makita LS1216L Compound Miter Saw comes with 4 steel rail sliding system and 8 linear- ball bearing that increases firmness if you want to get smooth and accurate crosscuts. This feature is also responsible for giving the tool a large cutting capacity. The Makita LS1216L Compound Miter Saw can be carried to job site or any large project site. It can be used to cut 15 inch width at 90-degrees without any additional twists or extra accessories. The tall sliding fence it has allows users to get clear and precise miter and bevel cuts. You can deal with a lot of projects with ease. With its simple adjustments, you can easily access the dual-rear-handle bevel locks. You can also adjust the dual-front-bevel scales in order to get better visibility.
---
Features Of The Makita LS1216L Compound Miter Saw
Blade Guard
The blade guard is one of the most important safety features that every compound miter should have. The Makita LS1216L Compound Miter Saw isn't an exception when it comes to safety. This Makita model has been accepted by most of the people because of its functional blade guards. The blade guard offers a lot of protection and visibility to its users, the blade guard is transparent which makes it easy for users to see through material they're cutting. You can view cut lines even if you're viewing from the other side. Most blade guards from other miter saws aren't transparent in nature, they block visibility to the user and hence a lot of mistakes can be made. With this transparent blade guard, you will definitely fall in love with the Makita LS1216L Compound Miter Saw.
Functionality
The level of functionality of this saw makes it rank at the top position among all other compound miter saws; you can deal with almost any kind woodwork project. The company has gained a lot of positive feedbacks because of the amazing features of the tool, a lot of innovative changes have been made to the previous model and the results that came out with this new tool makes it one of the best compound miter saws, you can make miter and bevel cuts effectively.
The miter detent system is a distinctive feature that comes along with the Makita LS1216L Compound Miter Saw. It's easy to use and it's super intuitive. It won't take a long time or wasting a lot of energy when dealing with the toughest project. With little effort, you can pull down the miter to the direction you want. Because of its easy operation, you can use your finger to set up all the parameters you want while you're working with your other hand.
Cutting capacity is really good when compared to other miter saws, most miter saws that come with 10 and 12-inch blades don't deliver as much as they promised, you'll find that when working with thick materials, the blade sometimes bend or even break, and the limit of most blades is 90-degrees. The Makita LS1216L Compound Miter Saw offers much more than that, it exceeds such limit so that users can get more flexibility, the tool is capable of cutting 6-5/8 inches for nested wood, and for vertical base wood, it can cut 5-1/4 inches. It can also make a crosscut of 4×12. Generally speaking, the cutting capacity of the Makita LS1216L Compound Miter Saw is higher than that of most other miter saws that are in the market. If you're dealing with large dimension this is a tool you don't want to miss.
Dust Collection
Flying dust is one of the byproducts of almost every power tool. Most of us are not comfortable working in an area that is filled with flying dust; this is because it affects visibility a lot and also the quality of the finish material, inhaling the dust also is another problem for your body. Every miter saw manufacturer is adding the dust collection feature to their tool, but most of the time it's not effective. It only collects a small percentage of the dust produced. But the dust collection system of this Makita LS1216L Compound Miter Saw is very effective. It comes with a vacuum adapter, a dust elbow, and a dust bag to absorb any dust that is produced when working with the device. This tool can collect over 90% of the dust generated. You'll enjoy working in a clean and comfortable workspace.
Precise Miter And Bevel Cutting Capacity
This device has a sliding fence system measuring about 5-1/2" inches. The 4 sliding fences are adjustable and you can recalibrate them to get a precise miter and bevel cut. For the miter cuts, you can adjust the miter from 0-52-degrees to the left and 0-60 to the right. There are five positive stops at; 0-degree, 15-degrees, 22.5-degrees, 31.6-degrees and 45-degree to both right and left. You'll find the bevel scales at the front; this ensures you get more visibility and easy precision adjustments. The miter lock is easy to use. You just need to push the button and turn. The Makita LS1216L Compound Miter Saw is one of the best miter saws that come with easy miter adjustments.
Laser System
The Makita LS1216L Compound Miter Saw isn't left behind when it comes to making accurate cuts with help of laser guide. With the laser light, it comes with you can align the blade to your side so that you can follow you cut lines and get a more accurate cut.
Powerful Cutting Capabilities
The Makita LS1216L Compound Miter Saw is powered by 15-amp gearbox motor. The device allows you to make superior cuts without much effort from your part. This strong motor also spins the blade fast to ensure you through materials fast and also avoid overload.
---
Customer Reviews
Most users are satisfied with the features of Makita LS1216L Compound Miter Saw, the saw can cut through wooden material and other hard materials very quick and easy. And because of its user-friendly features, the tool can be used or operated by anyone. The powerful feature of the tool is what makes it earn a lot of positive reviews such as the dust collection mechanism and laser light guide it has. Even though some users have complained about the alignment of the tool, but it's still a great option for anyone that's looking for a powerful miter saw.
Downsides Of The Makita LS1216L Compound Miter Saw
Some users have reported that the back fence isn't capable making cuts at 90-degrees as it has been advertised.
---
Conclusion
To summarize things up, the Makita LS1216L Compound Miter Saw is a good tool you can add to your toolbox, even though it has some downsides, it's still a great option when it comes to making miter and bevel cuts. The features of this tool are enough to take care of all your cutting needs. The level of technology used in the design of this compound miter saw really makes the device exceptional.
Every tool has its own drawbacks, just because it lacks a few minor features doesn't mean it's a bad tool. You will find flaws in every innovation, but if you want to get the best tool you should make a comparison to other tools and that is when you find out which one is the best.
The features of Makita LS1216L Compound Miter Saw have been praised by most people and it's encouraged that you check the online ratings of this tool and see for yourself.