A compound miter saw is an excellent tool for DIYers and is a must-have tool for every workshop owner.
Miter saw is designed to make moldings and window casings very fast; a good compact miter saw will be a good addition to your toolbox or workshop.
A miter saw is a good option for carpenters that are always looking for a reliable tool that will make different angle styles without much effort or spend a lot from their pocket.
Selecting the right miter saws can be challenging, that's why in this miter saw review we'll discuss how to choose the right tool and features you should look for in any miter saw and also take a look at the Tacklife PMS02X Compound Miter Saw review and why it's the best tool for anyone that's looking for handy tool to deal with his workshop projects.
Why Should You Buy A Miter Saw?
Chances are that you've seen a crown molding or custom trim and you're wondering how it's made. The answer to those moldings and trims is miter saws. Miter saws are involved in almost any angles cuts that are made at various working places such as picture frames, furniture, door, and window frames, are all product of miter saws, sometimes it's called chop saw. Miter saw is perfect for creating precise and crisp angles. If you also want to make different cuts quickly this saw is the ideal solution to the job.
What Type Of Miter Saw Do You Need?
Most miter saws come with either 10" or 12" size blades. If you're a beginner it's highly recommended you buy the 10-inch blade, while the 12-inch blade should be for professionals who are used to working with any power tool that comes in their way. The types of blades you choose also depend on your job requirements, so you should choose according to your needs.
Since most of them come with simple instructions on how to operate the device you shouldn't have a problem operating any device you choose for yourself. You just need to just choose the one that is handy and convenient for you.
Do You Need a Miter Saw That's Equipped with Laser Guide?
If you're aiming at good, sharp and accurate cuts, a miter saw that comes with laser guide has an added bonus because it helps you achieve sharp angles and accurate cuts. The laser is a shining beam that cast onto the material you are working on. With the laser guide, you can see clearly where you need to place the blades before the blade is in contact with the material. This helps to avoid errors and also safely use the device.
But you have to be careful when choosing laser guide miter saws because there are miter saws that have the laser guide but it's not effective, it can even confuse you, with such tools users have to even switch off the laser guide. The laser guide is not also suitable for use under bright sunlight.
Types Of Miter Saws Available
There are 3 types available, compound miter saws, sliding compound miter saw and dual bevel miter saw. You should choose the right one based on your job requirements.
---
Tacklife PMS02X Compound Miter Saw Review
Every DIY enthusiasts or professional craftsmen shouldn't compromise on the quality of compound miter saws they add to their toolbox collection. Compound miter saws are easy to use and get the job done very quickly and can see through almost any challenging task that requires miter cuttings.
Tacklife is a well known brand from China that is well known for manufacturing high-quality power tools for various needs. Most of the projects we deal with every day that involve wood require angle cutting and there is no better device that handles this task than compound miter saws.
You'll find a lot of products in the market when it comes to choosing miter saws, but the Tacklife PMS02X Compound Miter Saw is a unique device that offers a lot of benefits to its users. It is a very efficient and effective machine that can deal with jobs that require angle cutting. In this Tacklife PMS02X Compound Miter Saw review we'll explore the features of the tool and see what it can offer to craftsmen.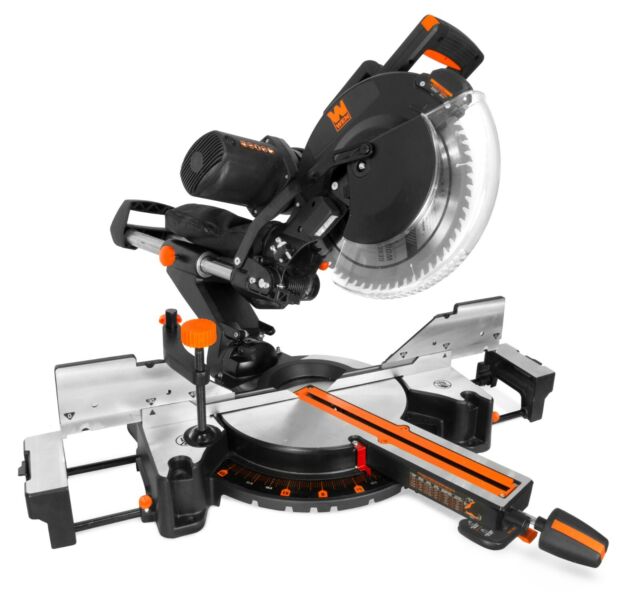 Tacklife PMS02X Compound Miter Saw has a 12-inch blade and delivers a speed of 3500 rpm. The blades can be beveled at 45 degrees in the right and left directions for improved flexibility. The Tacklife PMS02X model also comes with 5 stops to allow you to cut any material you want.
The two set of blades can cut through most of the tough materials you will be dealing with in your projects. The 40 teeth blade can handle soft materials while the 80 teeth blade can deal with harder materials. You can use the tool in different jobs that require angle cuts; it is capable of making bevel cuts, square cuts, and compound cuts.
---
Features Of Tacklife PMS02X Compound Miter Saw
It's An Efficient Device
The Tacklife PMS02X Compound Miter Saw comes with 15 amp motor, the powerful motor of this device gives it a no-load speed of 3500-revolutions per minute. This feature allows the tool to make miter cuts and crosscuts with ease. You can adjust the cutting depth the way you want for trenching and grooving.
Multipurpose Cutting
You can make different cuts with the laser guide. The Tacklife PMS02X Compound Miter Saw is capable of making square cuts, compounds, and bevel cuts. It can make a vertical cut of up to 4-1/8 and a nested capacity of up to 4-3/4". The laser installed is to give you maximum accuracy in your cuts.
Sliding Miter Cut
The Tacklife PMS02X Compound Miter Saw has a bevel range of 0-45 degree to the left and offers precision cuts between -45 to 45 degree angle ranges to both left and right, this is a well flexible feature, it comes with miter detent plate that is made with stainless steel and is adjustable with 9 stops.
Blades
The Tacklife PMS02X Compound Miter Saw comes with 2 set of blades; the 40T-TCT-blade and 80T-HSS blade. These are high-quality ultra blades. Both the 80 tooth and 40 tooth blades are made from tungsten carbide. The strong blades can make miter cuts to different hard materials such as hardwood, aluminum, mild steel, metal, plastic and many other hard materials you could think of.
Good Ergonomic Design
Tacklife PMS02X model has a soft horizontal handle, the vibration absorbing mechanism provide more comfort and control when using the tool. There is also a dust collection system to minimize flying dust to clear the dust out of your cutting path and also to increase visibility in the workspace. It comes with a large table that offers better material support and strong clamping system to hold your material tight.
Laser Guide
The laser guide that comes with The Tacklife PMS02X Compound Miter Saw will assist in getting accurate cuts. Speaking of accuracy you don't need to worry about that. The laser guide makes life easier, even some users recommend not relying on the laser because it's an estimate to an exact measurement.
Comfortable To Use
The handle of the tool is coated with elastomer casing to reduce vibrations during the operation. When using the tool you won't experience a lot of vibrations, the level of noise for this device is considerably low when compared to other compound miter saws. Even when working with metals or hardwood you will notice the low sound.
---
The Pros Of Using The Tacklife PMS02X Compound Miter Saw
The scale ruler and the laser gives more accurate cuttings, they provide a straight and professional result.
The 15 amp powerful motor makes the tool strong and offers a no-load of 3500-revolutions per minute, it also makes the device very durable.
It has hardened bevel stops; the steel bevel stops provide versatility. It has 5 bevel stops at 0-degrees, 15-degrees, 22.5-degrees, 30-degree and 45-degrees.
Tacklife PMS02X Compound Miter Saw comes with 2 set of blades which makes the tool lasts longer. The 40T blade can handle most of your wood and plastic cutting jobs, while the 80T blade can cut through different metals and aluminum.
The 45-degrees miter can be used in both left and right direction, the bevel can also be tilted at 0-45 degrees, square cuts can be achieved with this tool and other compound cuts.
It has extension support when making repeated cuts and a dust collection bag to increase your cutting visibility.
The handle is very comfortable to use when lifting the device and has a vibration absorbing elastomeric grip. This helps reduce fatigue and offers more comfort when using the tool.
It comes with 13 feet cord. This makes it easier to move the tool around within the working space without the need for an extra extension cord.
The Cons
There have been some complaints on Tacklife PMS02X blades, some of the tool users pointed out that the blades don't work as promised, the blades sometimes bend when working on hard materials, and the blades are also difficult to get in stores, most of the time you have to order them online.
If you want to know which are the best Miter Saws in business, read the article – Miter Saw Buying Guide.